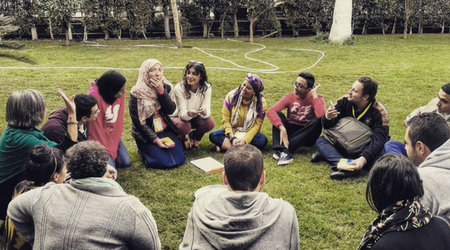 Just across the street from CAC's campus is a business with a beautifully decorated and inviting display window. In its current incarnation, this space is known as 18.213 (a reference to its address on Road 213). Owned by CAC alumna Sahar El Arishy '83, 18.213 is the first pop-up venue in Egypt that is "an experiential launchpad for startups and entrepreneurs."
In recent years Egypt has become a hub of entrepreneurship in the MENA region, and many startups are struggling to establish their brands and grow their businesses. El Arishy uses her expertise to help businesses with integrity to stand out. She explained, "When an entrepreneur comes and approaches me I don't just create an event. I curate their brand story. I dig very very deep to understand what it is about their story that makes them unique." She also recently led a workshop on how to build an authentic brand story at the 2016 RiseUp Summit.
In 2009, after completing the Goldman Sachs 10,000 Women initiative, El Arishy transformed a space on Road 213 in Maadi -- formerly her mother's art gallery -- into her own boutique firm for corporate communications. 18.213 thrived until 2011, when Egypt's revolution challenged her to meet the changing needs of the country's business community.
"I had to find a way to generate income but in a different way. So I got on Google, and I literally put in 'what to do with a small space,'" she explained. Through this search El Arishy discovered the concept of pop-up venues, temporary retail platforms where businesses can test products and market their brands. "I was totally intrigued," El Arishy explained. "I said 'you know what, I'm going to be the first pop-up venue in Egypt.'" Within a few days El Arishy had her first client in Deana Shaaban, a popular Egyptian fashion designer.
In 2014, El Arishy completed a degree in Event Planning and Management in Montreal, Canada, which gave her the foundational skills needed to "take 18.213 to another level." She returned to Egypt in 2015 and relaunched her business; her first client was Dana Dinnawi '91, a health coach who is also a CAC alumna and current parent. Since returning she has also worked with mosaic artist Amal Akhnoukh, who is using her art to inspire public school kids to feel a sense of ownership of their community and develop a spirit of collaboration.
Her latest event was a Christmas pop-up for Riham Zaghloul's jewelry brand ZAGH; Zagloul is also a current parent at CAC. ZAGH is an exclusive Egyptian brand inspired by calligraphy, nature, philosophy, and Egypt's cultural heritage.
That El Arishy has been so successful and worked with so many outstanding entrepreneurs is reflective of her high standards. "I only work with entrepreneurs who have brands that matter, who have purpose, who want to make a difference, and I can take them to another level… My reason for being is authenticity and branding stories that have meaning and impact on the community."
El Arishy also explained, "all the service providers that I outsource have to be people who I feel would be vested in the brand. I have very high standards, very high expectations for my work. My ultimate vision for 18.213 is to continue to use my platform to tell exceptional stories of Egyptian entrepreneurs that want to change and disrupt the status quo. Egypt's creative economy is defined by its diversity and innovative changemakers. 18.213's core purpose is to bring those ideas to life."