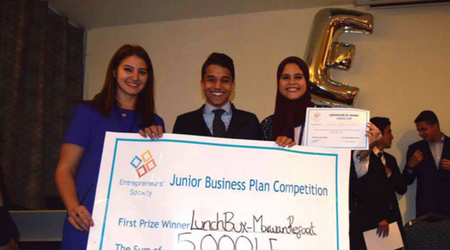 Marwan Refaat '18 has attended CAC since fourth grade and is currently a junior in the High School. At school, he pursues an International Baccalaureate (IB) Diploma. After school and on the weekends, in addition to studying and rehearsing for the spring musical, Refaat is an entrepreneur.
Though he is only 16, Refaat is currently in the process of launching a catering company called Tabakhy. Refaat explained that Tabakhy "is an online platform that connects chefs with people who want to host private dining events. It's kind of… an Airbnb-type model that connects chefs with people who want to host dinner parties." In recognition of his efforts, he was recently featured in CairoScene's recent article "25 Under 25: Egypt's Youngest, Bravest, and Most Impactful Entrepreneurs of 2016."
The idea for Tabakhy came to Refaat after a conversation with an Uber driver. When the driver, who is also a chef, made a joking comment about wishing that a version of Uber existed for chefs, Refaat started drawing up a business plan. He then coded the website with a friend he made at entrepreneurship camp. Another connection from the camp helped him recruit around 15 chefs to participate. Once he updates the look of the Tabakhy website, the company will be ready for a proper launch.
Refaat's passion for entrepreneurship stems from a desire to be creative. For a few years, his main after school activity was trading stocks. "I was making money but it was really boring," he explained. "It simply didn't come with the sense of accomplishment that I find in innovating. It was just researching and executing trades, I felt like a robot… so I took the money I had invested in stocks and bootstrapped Tabakhy". He started attending camps and events organized around entrepreneurship, where he met people who share his passion and have become friends, mentors, and networking resources. "It's really motivating to talk to someone who's grinding to get their startup going and then see them in a news article or something like that… It just goes to show that success is not as esoteric as we tend to think it is – they're just normal people who worked a bit harder, that's all."
While developing a network within the entrepreneurship community has been important, Refaat also attributes his success in entrepreneurship to his passion for theatre. "Theatre teaches you to put yourself out there. Learning to perform in front of an audience is really similar to pitching in front of an investor. It's like a presentation in some ways, but there are questions that come at you that you didn't even know could be asked, so you almost have to perform to sell your product."
Participating in theatre has also provided Refaat with the resilience needed to succeed as an entrepreneur. "You need to have a thick skin when you don't get a role. That's something that's very characteristic of entrepreneurship too. There are a few people who just make it on the first try, but most people don't, and you rarely get to see any of that. I think that's very similar to theatre. When you go to a theatre you only see the polished final product and not the long nights spent refining every scene. You don't look behind the scenes and see how many people were not able to get that part or how many times the actors on stage auditioned before they could get a lead role. Despite the excitement and hype behind entrepreneurship, there's a lot of people who fail, and I guess theatre has taught me to overcome that."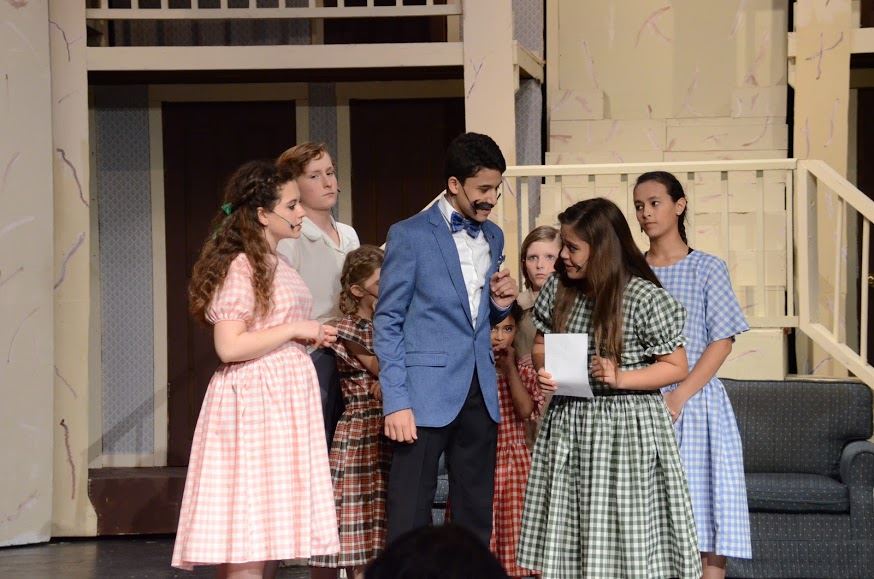 Refaat performing in last year's production of The Sound of Music
While Refaat is putting much of his energy toward launching Tabakhy, it is not his only project. He is also developing an application that will allow students and faculty at schools and universities to pay for food on campus with their mobile phone credit. Structured as a non-profit venture, a small royalty from each transaction will be donated to a food or water charity.
"I calculated that if one student at CAC uses the app for a year, assuming they spend LE 25 a day and we have 180 school days, that's enough money to provide one person with clean water for a lifetime… I think it's very significant to have a student empower another person in a developing community just by using an app that makes their everyday life easier." While Refaat only started this project a few months ago following his win at the AUC business plan competition, he hopes to have it ready for CAC next year.